The number of active listing coming on the market in Denver and the metro area continues to climb. The headlines may show drastic increases in inventory, but the data shows that we are still well below historic highs. Denver Metro Association of Realtors ("DMAR") reported, "the number of active listings is still significantly below the historic average in the month of January at 13,469 (1985-2018)." Home buyers may see some reprieve in 2019 if this trend continues, but my two cents is that the next couple of months sales, new listing, and buyer activity will set the tone for the Denver market through the upcoming selling season. Average days on market will be another indicator to watch and how it impacts sales price.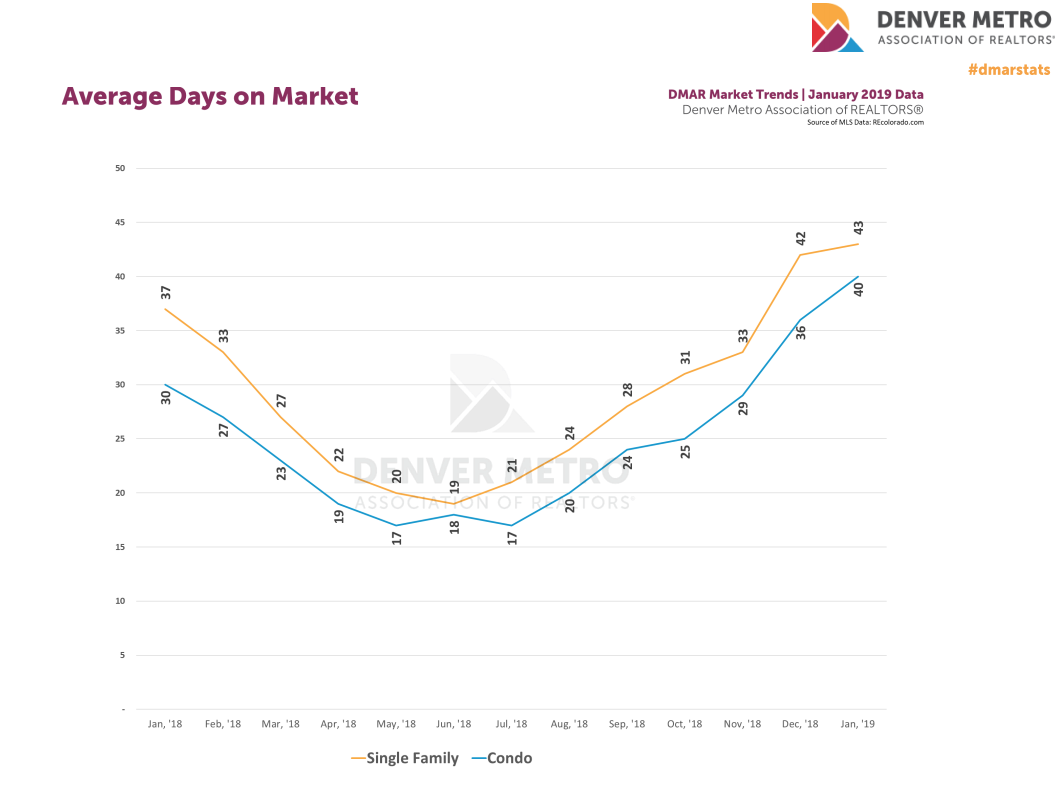 With interest rates still historically low and growing inventory, we may see a leveling off in the market with modest price appreciation. The recent report from DMAR quipped that the average sold price inched up 2.89 percent compared to last year to $461,101 in January 2019. A fascinating stat that the Denver Post wrote in an article was that DMAR data showed that 17.3 percent of homes sold above their list price, but a whopping 60 percent sold for under list price. It seems like it might be a good time for buyers, which has been a longtime coming.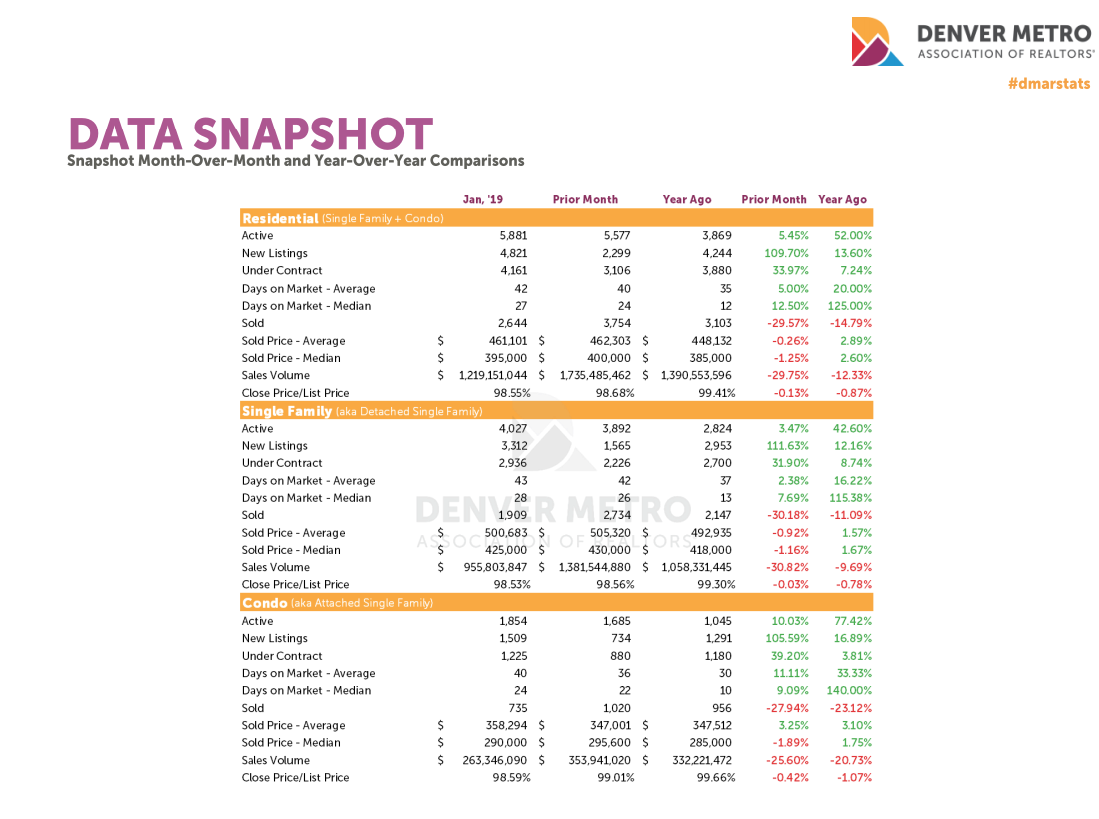 The Denver luxury market saw 93 homes sell for $1 million plus, which was down over 14 percent compared to last year. A member of the research team at DMAR thinks the luxury market is now a buyer's market in Denver, which makes since because inventory is at 7.65 months supply. Anything over 6-month's supply is considered a buyer's market in most real estate economists' opinion. A fascinating stat is that supply has increased but days on market has dropped drastically. The 2016 to 2018 luxury market saw median days on market from 71 to 84, but in January it was a mere 41 days on market. Friends that is a drastic change –luxury properties are stilling selling quickly compared to the last couple of years.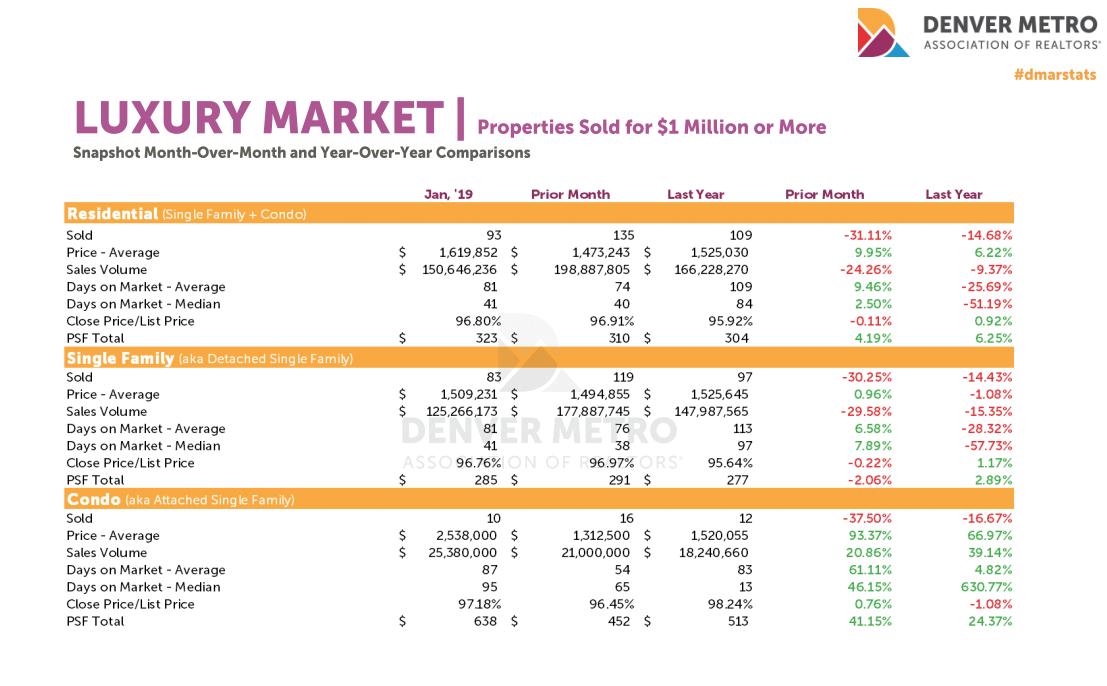 The luxury home that took the trophy for the highest priced single-family home in January went for $5.1 million. The Boulder home had over 10,000 square feet with 4-bedrooms and 6-bathrooms. A condo in Denver topped that with a ticket price of $10.75 million with 6,295 square feet. The average price of luxury home was up 9.95 percent compared to last month and 6.22 percent compared to last year, which shows that the luxury market is still robust. Numbers don't lie and it is clear that the luxury buyer is still scouring the market to buy in Denver and Boulder.

Below are some additional highlights from the DMAR report:
The report stated that it is now easier for move up buyers to place contingent offers on their next property.
Sellers should list their home in March, April or May to take advantage of a larger pool of buyers and to take advantage of the lower housing inventory.
DMAR received feedback from prospective home sellers that they understand the market is shifting and sellers think now is the time to list their home before a market correction.
Forbes ranked Denver the number one "most competitive housing market."
"The number of new residential listings leaped 109.7 percent from December, and increased 13.60 percent year over year."