The office sector in Denver and the metro area is still showing signs of strength. The labor market continues to be a major catalyst by adding 3 percent growth through mid 2018 and signals of sustainable growth in 2019 continue with a talented workforce flocking to Colorado. Denver office space has performed very well over the last several years within all classes of office space. In 2014 and 2015 office properties saw average gains of around 5 percent, which included class A to class C office space. There was an exception in 2016-2017 where top tier office space increased only around 1 percent on average, as other categories posted gains of 4 percent. All classes of office property increased in 2018 around the same yearly rate for the first time in decades.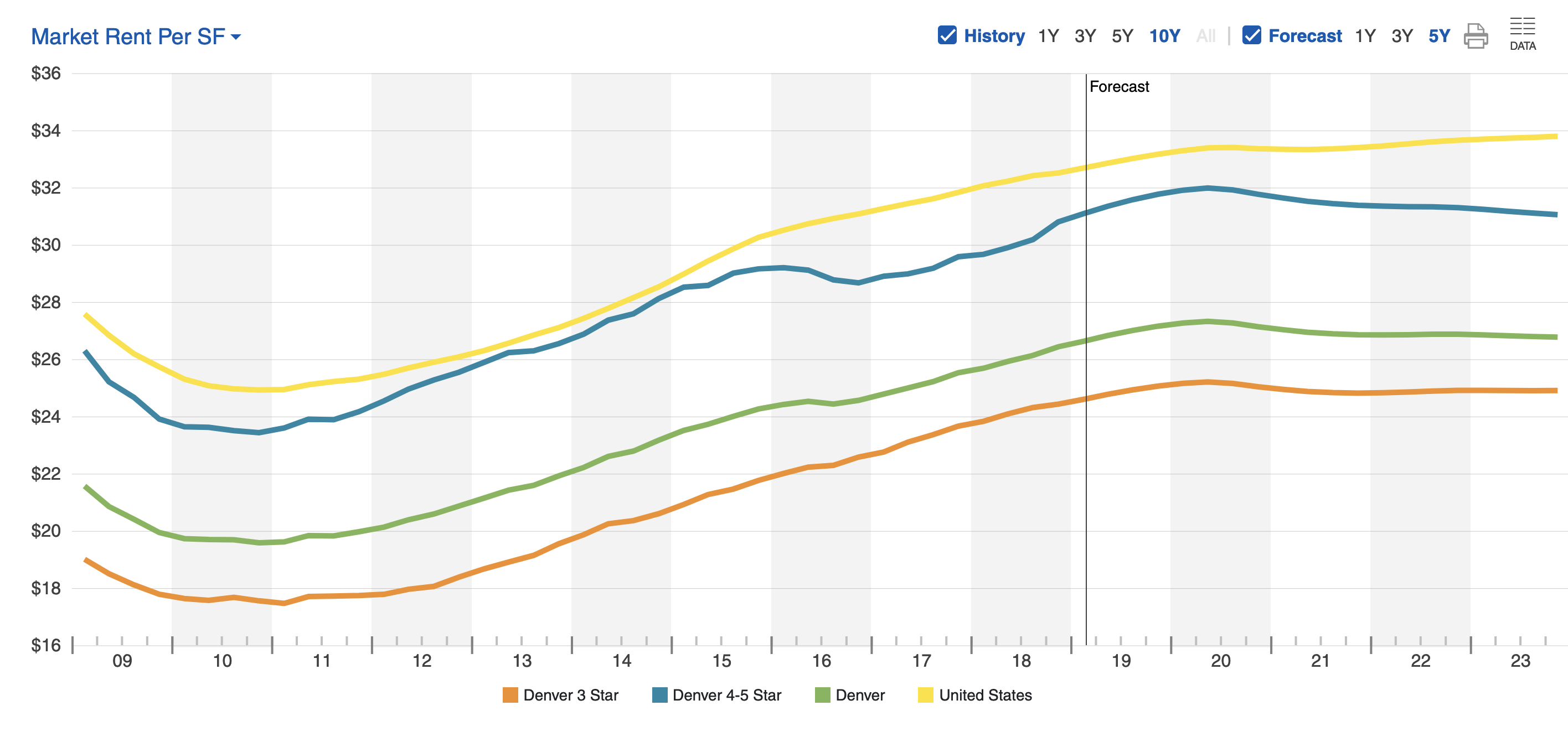 The oil and gas industry started to shed office space a little over a year ago, which disrupted the office sector and fortunately was a minor blip. Denver has been resilient with a diversified economy and the booming tech sector growing throughout the metro area. Several prominent tech firms have grown their footprint in Denver and the metro area with the likes of Facebook, Google, and Slack. The 2018 annual absorption rate climbed to the highest level since the tech bust of the early 2000s. Net absorption for the office sector clocked in at just over 3 million square feet for 2018 on a trailing year basis and fourth quarter shined with 907,439 square feet of net absorption.
To put this in perspective, the first quarter of 2017 net absorption was below 500,000 square feet. Part of the lag is because the energy sector jettisoned almost one million square feet in that timeframe. The vacancy rate leveled off in 2018 with direct vacancy settling in at 12.1 percent. The average direct asking rate ticked up 1.6 percent compared to last quarter to $28.34 per square foot for full service gross. CoStar reported that spec developments in the suburbs and downtown have been fueling the fire.
Denver is doing a great job of attracting startups and innovative companies with the likes of Gusto reporting that they will add 1,000 jobs in the next few years and Slack plans to add 500 plus positions. A few of the notable leases downtown in 2018 were at 1144 Fifteenth with Unicom Capital signing on for 20,000 square feet on the top floor, Faegre Baker Daniels signed up for 58,000 square feet, and Chipolte faked everyone out in early 2018 by leasing 150,000 square feet. Soon after the announcement, Chipotle decided they would rather be in Newport Beach, California. In late 2018, Chipolte still had roughly six floors of space available for sublease. Ouch!
WeWork is closing in on being the largest office user in Downtown Denver. A recent report tallied up WeWork's recent growth in Denver with six new sites with around 450,000 square feet of new leases. By the time these leases go live WeWork will have roughly 600,000 square feet helping them pass DaVita as the largest office user in Downtown Denver. The trend of co-working office space is en vogue with over 60 new locations opening since the beginning of 2015, according to a CoStar report. Most of these co-working environments are in the CBD, Platte River, RiNo, or LoDo. Another notable lease signed for a measly 285,000 square feet until 2030 was inked at 1551 Wewatta by VF Corp. DaVaita vacated some of the space at 1551 Wewatta opting for a new construction gem at 16 Chestnut.
Some of the headwinds in 2018 facing the Denver office market mentioned before were in the energy sector. Companies like Newfield Exploration vacated 136,000 square feet at 1001 17th Street and WPX Energy is offering up 100,000 square feet. Several of the energy sector spaces available for sublease were leased up by other companies in the energy sector.
In the suburbs there were several notable leases signed in 2018. Western Union took a large chunk of space at One Belleview Station with a 267,000 square foot lease, which was a spec office building in DTC that was completed in the second quarter of 2017. Charter Communications scooped up 306,000 square feet at a new building in Greenwood Village. Biomet signed a lease in the suburbs for 104,000 square feet and HighBrook Investors took on 76,500 square feet in West Denver.
CoStar reported that Denver office rent growth once again outpaced the national average with a roughly 3 percent increase. Higher end office buildings are seeing stronger rents most likely due to a strong economy and growth in technology, medical, business and financial services. The top tier office buildings are seeing close to 4 percent annual growth which happens to be the strongest in over three years. Another bright spot for Class A office space was the 644,058 square feet of net absorption. RiNo had a chunk of the positive quarterly net absorption with 110,114 square feet according to a recent report. The lease rate for Class A space in Denver and the metro area was up 6.5 percent compared to Q4 of 2017 at $31.31 per square foot full service gross. Office space in Downtown Denver on average was $35.64 per square foot for full service gross, while Class B space came in at $27.04 per square foot.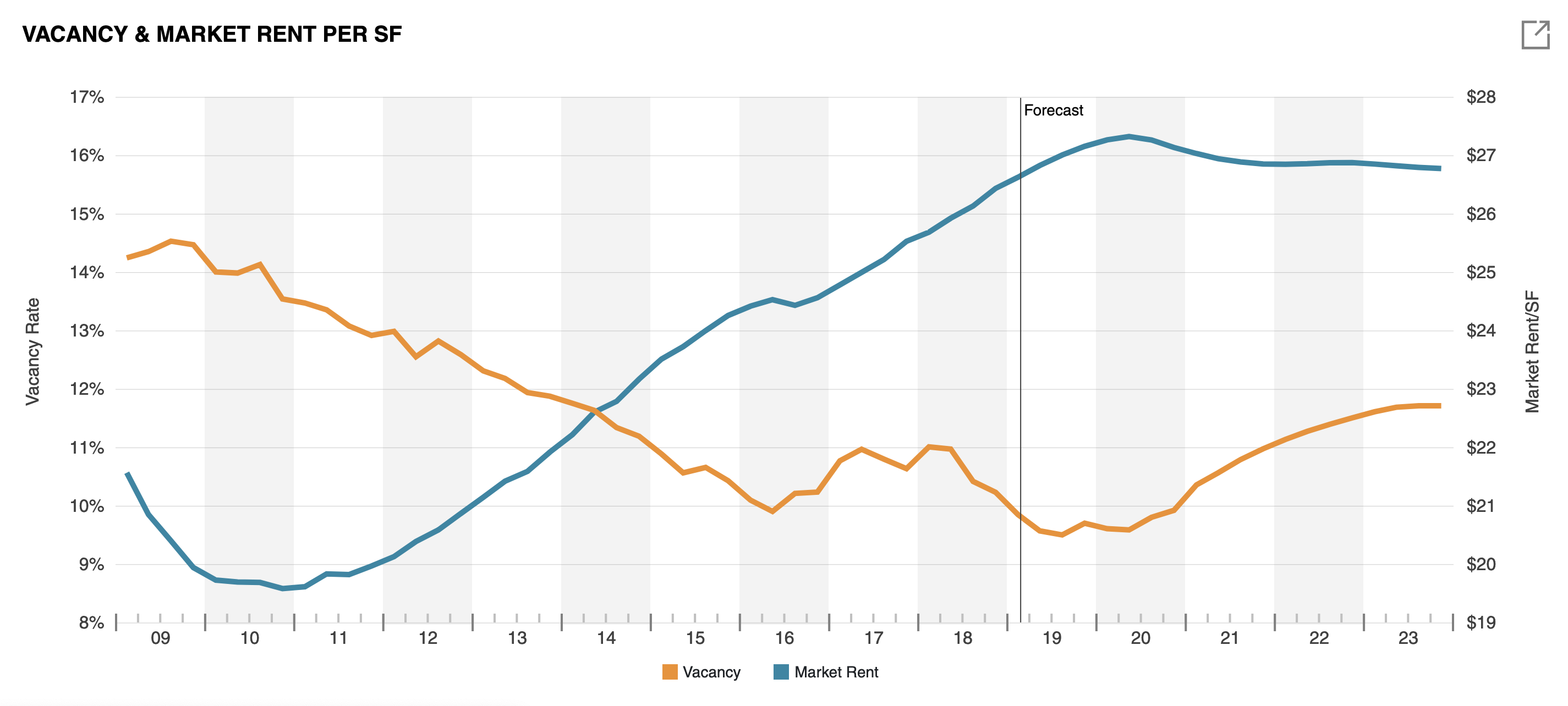 Office Sales
The office market in Denver had several noteworthy trades push the annual sales volume to almost $1 billion in 2018. Over the last three years, the CBD office sales were below half a billion. One monster deal announced by the CoStar report was that AFL-CIO invested $285 million in one of the tallest building in Denver at 1801 California. This was a 51 percent stake in the office tower and reportedly they are under contract to purchase the rest of the building. The 1.37 million square foot deal values the building at $560 million which is $407 per square foot. Not too shabby for the seller, Brookfield Office Properties, which acquired the building for $215 million back in 2011.
Another big ticket office tower at 1670 Broadway was sold by UBS Realty Investors for $238 million or $338 per square foot. Hana Financial Group out of South Korea purchased the office building with a cap rate in the mid-fives, according to the report. One surprise in my opinion from the CoStar Office Market Report was, "Through 18Q3, international buyers comprised more than a quarter of all office buying activity year-to-date, in dollar terms." There were 5 office deals in 2018 by international buyers that pushed total dollar sales volume in Denver over $500 million.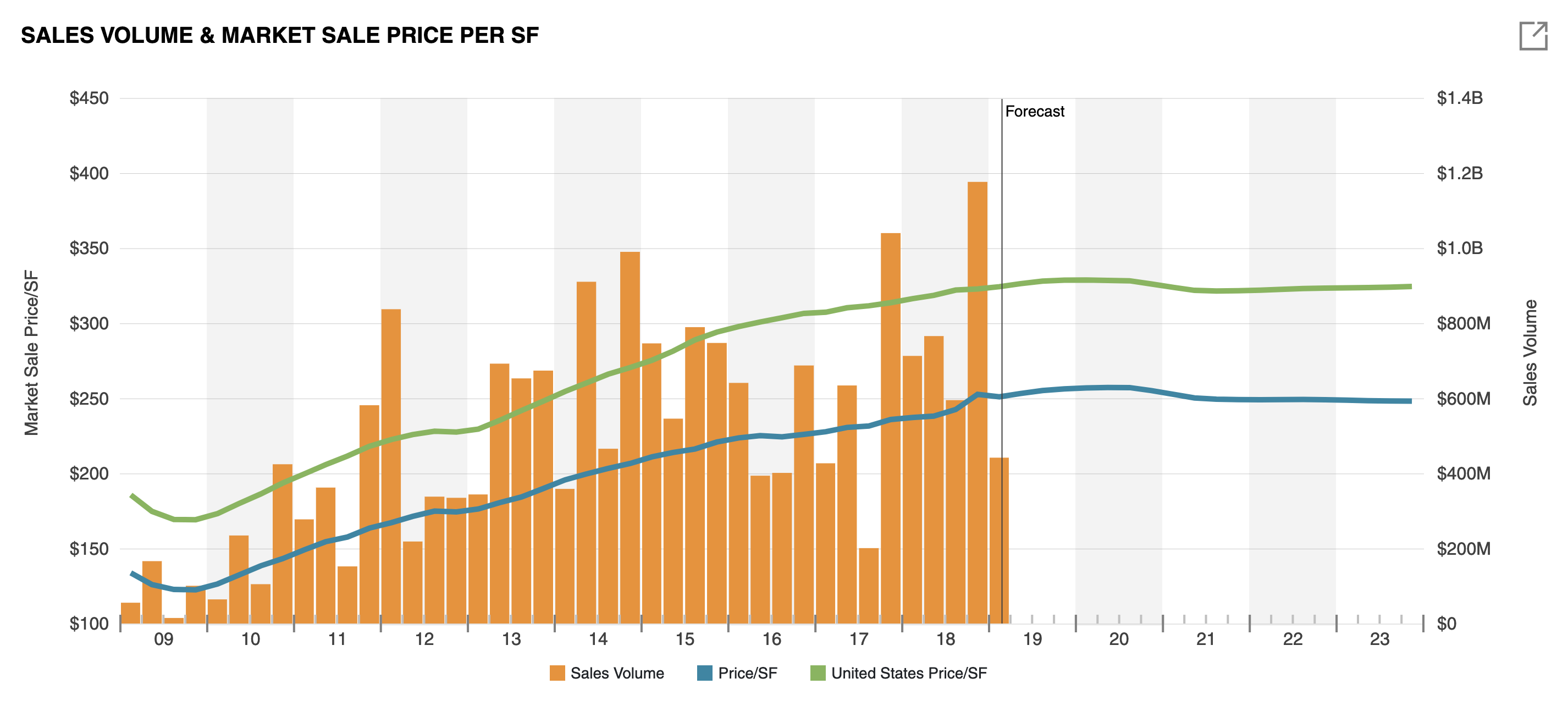 The office market finished strong in 2018 with Morgan Stanley scooping up 1601 Wewatta for $222 million. Hines joined the party with the acquisition of the US Bank Tower for $194.2 million. The average price per square foot for Denver and metro area office property is up 14.6 percent compared to last quarter to $241.45 per square foot. Luxury office towers command a premium in Denver though with 1801 California Street selling for $407 per square foot and One Belleview Station commanding a purchase price of $478 per square foot. The outlook for the Denver and metro area office market looks solid. With strong net absorption and interest in Denver leading into the end of 2018, we should see large corporations, technology, medical and financial services companies continue to grow and boost the office market.
Source: CoStar