After almost 20 years of construction that began with the South End neighborhood in Stapleton, the final chapter has arrived with the North End. The North End neighborhood is construed of spectacular mountain views and open spaces full of wildlife, which is a direct contrast of the South End atmosphere of shopping, dining, and city bustle. The North End is adjacent to the Rocky Mountain Arsenal National Wildlife Refuge which features more than 16,000 acres of prairie, wetland and woodland habitat. The Refuge and the open spaces surrounding the neighborhood are home to over 330,000 species including bison, bald eagles, mule deer, coyotes, black-footed ferrets, and white pelicans. Nonetheless, North End occupants are only a light rail ride away from city life such as Downtown Denver and DIA since North End is located near the Central Park RTD light rail station.
The neighborhood maintains the beloved social gathering atmosphere present in the South End. Features of a variety of unique gathering places such as "the Perch" and "Observation Point" were made with the intent of socializing whilst taking in magnificent views. The neighborhood will also be the home to the community's seventh and largest pool which includes a two-story waterslide, a six-lane lap pool and a zero-depth entry. This pool will be located in a park which will also feature playgrounds, climbing boulders, sports courts and a space for a soon-to-be baseball field.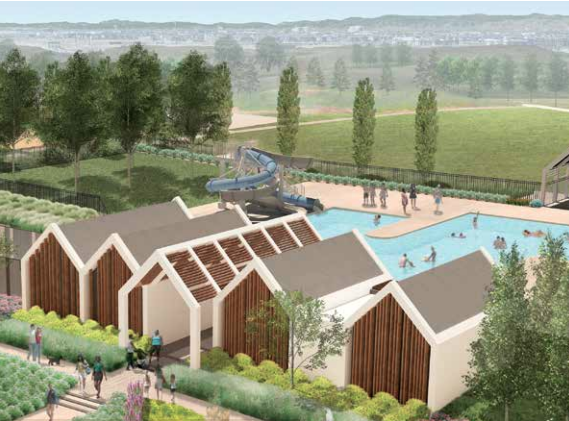 Furthermore this new neighborhood will be the home to a new school, North End K-8. North End students will also have the options of Denver School of Science and Technology as well as the Denver Discovery School and Inspire Elementary.
Not only does the North End mean development, but it also embodies the meaning of preservation. The North End is creating green space, restoring the habitat in the area, and including nature as a part of its identity. Alongside it's preservation measures, the homes in North End can be built as zero energy ready. This means that these homes will optimize features to meet high performance standards so that the occupants can live better and the house will last longer as it is better protected from the elements. Additionally, zero energy homes are more sustainable for the environment, allowing for preservation of our one true home.