The Denver housing market remains in a good position for both homebuyers and sellers, although favorable conditions remain for homebuyers with low interest rates, more price reductions, and growing housing inventory. According to the Denver Metro Association of Realtors (DMAR), the metro-Denver housing inventory is slightly down by 1.69% and sits at 9,359 residential active listing compared to last month's record high of 9,520 houses, which was a 5 year high. Overall in the Denver metro area 6.19% fewer homes were sold in July compared to June and the average sold price was also slightly down .21% to $489,960. However, the average sold price for single-family homes was up .58% to $551,516, while the average sold price for condominiums was down 1.46% to $362,922. Some experts think this is a result of the fact that Realtors have had to lower listing prices, because homebuyers are waiting for a couple of weeks before they go out to see homes in anticipation that the price will go down.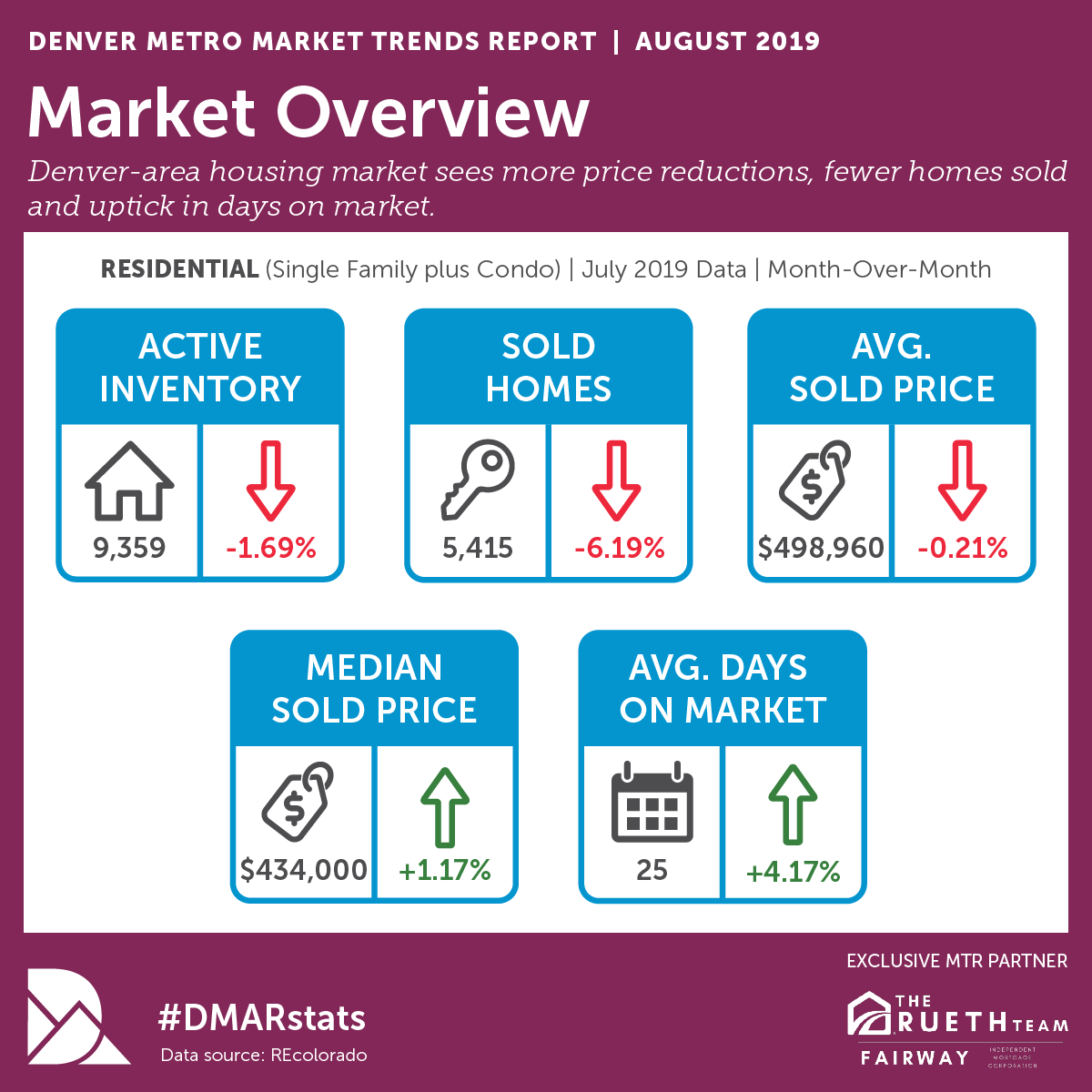 The average days on market for residential homes was up 4.17% since the prior month and sits at 25 days. Statistically speaking, we are still in a sellers market with 1.73 months of inventory for all price ranges. In fact, luxury houses (priced over $1 million) have the largest inventory with single-family homes at 4.93 months. Foreign purchases of US residential real estate is at its weakest level in six years at $77.90 billion. Chinese buying activity has been cut by 50% in just one year. Luxury home sales are taking the brunt of this hit according to Elliot Eisenberg, an internationally acclaimed economist.
The number of luxury homes that sold and the sales-volume is partly due to the fact that there is an increased inventory in the luxury market attributed to home value appreciation. Since last year, the number of luxury homes sold increased by 8.60% and the average sales price increased 5.38%. However, median days on market almost doubled from 14 days in June to 26 days in July.
The luxury market had its biggest sale in July in Boulder for $5,779,000. This luxury home had 4,773 square feet, five bedrooms, and seven bathrooms. The luxury condo that took the prize for highest sale price traded for $2,350,000. Located in Denver with 4,850 square feet, four bedrooms, and 4 bathrooms.
The rental market continues to heat up as RENTCafe.com, a national apartment search website, stated that the average monthly rent in Denver has risen $58 since the beginning of the year and sits at $1,670. This places Denver's rent at the sixth-highest among 260 of the largest metropolitan cities in the US.
Another important factor that is favoring homebuyers was the decision of the Federal Reserve to cut interest rates by .25%. As a result of this decision, mortgage rates may fall even lower than they are now. The Denver area is also experiencing very low rates of unemployment, an increased number of active listings, and more days on the market for homebuyers to make a decision.